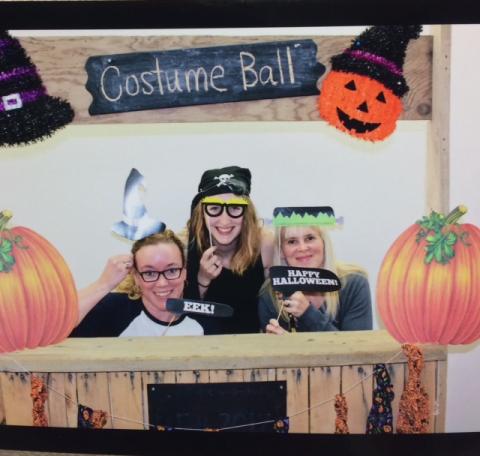 And here it is… November. We have been very fortunate to have enjoyed such a mild Fall so far. The beautiful weather even allowed us to fit in two evacuation drills ("fire drills") without having to worry about too many shivers! We are all thankful for that. And, to carry on with the Thank Yous: thank you to the parents who participated in the SCC work bee, thank you to parents and guardians for getting the large bundle of start up forms filled out and returned to the school, thank you to all staff members for their participation and leadership in the many extra-curricular opportunities that are available to students, thank you to the MAC team for organizing multiple spirit days this month and finally, thank you to the SCC and other parent volunteers for their amazing work on the Costume Ball!
On a bit of a sad note, I must explain about the missing shelves in the front hallway. Unfortunately, we have been asked to remove the books that were in our community library as they were not in accordance with fire regulations. Many teachers took books to be placed in their classroom libraries and the rest were donated to charity. There is a small box of books under the table, beside the couches, in the front foyer because we know that many students like to look at books while they are waiting for their rides. We would ask that your book donations be taken elsewhere from now on. Thank you to Mr. Clifford for his excellent work in quickly removing the shelves and adding a fresh coat of paint to brighten up the area!
Looking ahead at the month of November, we have Remembrance Day assemblies, re-takes, a long weekend and 3-Way conferences. And all of that before December even starts! Before long, we will be talking about snow and winter break, but until then we continue on our exciting journey of learning and fun here at École Massey School.