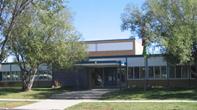 École Massey is a French Immersion Center with students from kindergarten to grade 8.  Our primary language of instruction is French, keeping in mind that students are learning French as an additional language.  All classes are taught in French.  Students begin some English language instruction in grade 3.
We have 14 classes which includes 2 half-time kindergartens with approximately 350 students and 26 staff. 
Thank you for visiting our website.  We hope the site can provide useful information for our community.  Please contact us if you need further details.