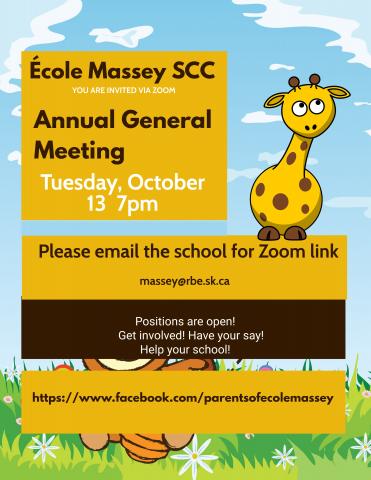 Hello members of the Ecole Massey Community,
Thank you for all you've done to ensure that the school year has started off so well!
If you would like to play a bigger role in our School community please consider joining the School Community Council. The SCC meets monthly, helps to plan School events, fundraises, helps out where we can, and provides an opportunity to collaborate with School administration.
Even if you can't join, please feel free to attend our meetings as your schedule allows – all meetings are open to members of the Community.
/sites/ecolemassey.rbe.sk.ca/files/assets/files/SCC%20AGM%20poster.jpg
Our Annual General Meeting will be held via Zoom on Tuesday, October 13 at 7pm. Please email the school massey@rbe.sk.ca to receive an invite to the meeting.
If you have any questions about who we are or what we do, or any other matter, please feel free to reach out!
Thank you,
Mike Farrer (current SCC member)